Belsonic 2012: SKRILLEX, Knife Party, Kill The Noise & Dillon Francis - Custom House Square
Wednesday 15th August 2012 18:00
Three time Grammy Award winning American Dance music producer Skrillex, aka Sonny Moore, returns to Belfast on Wednesday August 15th to headline Belsonic at Custom House Square, presenting a brand new groundbreaking Audio Visual live show.
Skrillex exploded onto the UK music scene in early 2011 with the crossover EPs "Scary Monsters and Nice Sprites" and "Bangarang", both of which captivated Dance and Rock fans alike. He was named the 2011 MTV Electronic Dance Music artist of the year (ahead of massive DJs like Deadmau5 and David Guetta), and was one of the BBC Sound of 2012 poll nominees. Despite the lack of a full debut LP, Skrillex is now selling out arena sized venues across the globe, and is renowned for his hugely innovative concert productions. Tickets go on sale Monday 27th February 2012.
www.skrillex.com
Tweet
Skrillex is the pseudonym used by Los Angeles, California, USA musician Sonny Moore to differentiate his electronic solo work from his work with From First to Last and his other solo projects.
As Skrillex, Moore is an electronic DJ and producer boasting a musical style that incorporates electro house, fidget house, and dubstep. Moore began producing and performing under the alias Skrillex at clubs in the Los Angeles area in 2008.
Throughout 2010, Skrillex became a bigger and bigger part of Moore's life. On June 7, 2010 he released his debut EP as Skrillex, My Name is Skrillex, as a free download. Soon after, he was signed to mau5trap and began a nationwide tour with deadmau5. On October 22, 2010 he released his second EP, Scary Monsters and Nice Sprites, as a co-release through mau5trap and Big Beat.
On June 2, 2011, Moore announced the release of a "Scary Monsters and Nice Sprites" remix EP titled More Monsters and Sprites, which was released on June 7, 2011 on Beatport and June 21, 2011 on iTunes. It contained 3 new tracks, as well as 4 remixes of "Scary Monsters and Nice Sprites".
Skrillex announced his label OWSLA on August 17, 2011.
On December 23, 2011, Moore released the Bangarang EP. The EP features Ellie Goulding on the track "Summit", as well as collaborations with Wolfgang Gartner, Kill the Noise, The Doors and 12th Planet
Skrillex has been nominated for five awards at the 54th Annual Grammys to be held in February 2012. Among his nominations are Best New Artist, Best Dance Recording (for "Scary Monsters & Nice Sprites") and Best Short Form Music Video (for "First of the Year (Equinox)")
Read more on Last.fm
. User-contributed text is available under the Creative Commons By-SA License; additional terms may apply.
Top Tracks:
Top Albums: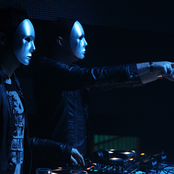 Knife Party is the electro house duo founded by Rob Swire and Gareth McGrillen, former members of Australian Drum & Bass band Pendulum.
They've remixed artists such as Swedish House Mafia, Nero, Labrinth and Porter Robinson.
Knife Party has released four EPs so far: 100% No Modern Talking, which was released free on various sites, the more recent Rage Valley EP (May 28 on Beatport and June 4 on iTunes and elsewhere). Tracks from the Rage Valley EP were leaked in poor quality long before release date and the entire studio quality EP leaked some days before release. Knife Party commented on the leak, saying they "don't care", and the latest Haunted House EP (May 6 everywhere). They have also collaborated with Swedish House Mafia on their single, Antidote.
Their debut studio album, Abandon Ship, was released in November of 2014. Originally scheduled for 27th October, unforeseen circumstances caused the album's release to be pushed back to 24th November. However, an accidental iTunes leak on 7th November made it available for download more than two weeks early to those who had pre-ordered it.
In March of 2015, at Miami's Ultra Music Festival, they debuted three new tracks, including a collaboration with Tom Staar, and later teased at a collaboration featuring Tom Morello of
Rage Against The Machine.
On 24th July 2015, Knife Party announced via their official Twitter that fans could expect their next EP, entitled Trigger Warning, to be released within the next 6-8 weeks.
http://knifeparty.com
Read more on Last.fm
. User-contributed text is available under the Creative Commons By-SA License; additional terms may apply.
Top Tracks:
Top Albums: